Some tips on how best to clean and maintain your appliances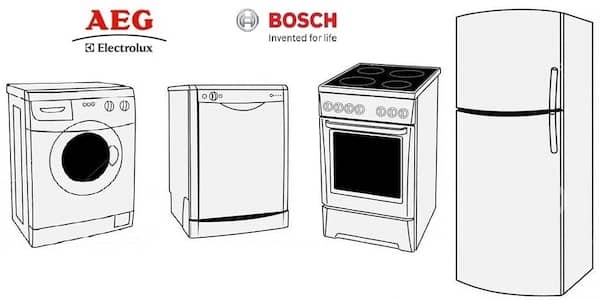 This is our number one tip for each and every appliance you own. After all, when it comes to use & care the manufacturer knows best. By reading your manual and following all the manufacturer's instructions, you can enjoy the high level of performance and efficiency your appliance was designed to provide.
If you notice that your appliance is not performing like it should, don't ignore the problem. If you do, it is only likely to get worse. For your own convenience as well as to prolong the service life of your appliance, you need to be proactive. If you cannot correct the problem on your own, do not hesitate to call us for professional advice, troubleshooting and repair.
Give it space: Most refrigerators require at least 2cm to 3cm of space between the unit and the wall to allow for air flow.

Keep it clean: Refrigerator condenser coils, especially frost-free ones, should be vacuumed twice per year to remove hair and lint that would otherwise interfere with the cooling power of the coils.

Save energy: You will get the best energy efficiency from keeping your fridge and freezer on the temperature settings recommended by the manufacturer. Fridges and freezers also hold cold better when they are at least half full.

Replace water filters: If you have a water dispenser or ice maker, you need to replace the filter about every six months or as recommended by the manufacturer.
Use the right detergent: If you have a front loading washing machine you must use detergent for front loaders. If you try to use regular detergent, it will produce way too many bubbles, which may actually overflow from your machine.

Let it dry: To prevent mold or mildew from developing in your washing machine, it is a good idea to leave the door or lid open between cycles. You should also leave the detergent tray open and wipe down the door gasket on your front-load washer between uses.

Check Pockets: To prevent loose items from getting trapped in the workings of your washing machine, always check the pockets in clothes before washing.
Remove lint from the filter or filters after each load. The lint traps are not the only place where lint can accumulate and present a fire hazard. You also need to clean out the cavity where the lint trap is housed. Once every few months should be sufficient. The exhaust duct and the external dryer vent if you have one needs to be cleaned at least twice per year.

Don't overload: Stuffing too many items in the dryer impedes air circulation and makes the load take longer to dry. Even worse, a heavy load can put strain on important parts like dryer belts and cause premature failure.
Scrape dishes: While you should not actually have to prewash your dishes before loading the dishwasher, you should scrape them to remove the larger food bits. This will help prevent drain clogs.

Clean the sprayer arm: Over time, sprayer arm holes can get clogged, which will prevent water jets from reaching all your dishes. It is a good idea to clean the sprayer arm every so often to help avoid this problem.

Don't overload: If you cram too many dishes into the dishwasher, some of them probably won't get cleaned properly.

Don't use too much detergent: Using too much detergent can leave spots on your glasses as well as gum up the works with residue.
Clean spills promptly: Sugary spills can cause cooktops to yellow, while acidic spills can mar the finish. Cleaning spills up quickly is also much easier than waiting until they are cold, dry, and hard.

Keep burner bowls clean: In a gas cooktop, the burner bowl actually helps reflect heat back to the pot. If your burner bowls are black and dirty, you won't get any heat reflection and your cooktop will be less efficient.

Don't drag pots: If you have a glass or ceramic cooktop, you never want to drag a pot or pan on it as any grit or rough spots on the bottom could scratch your cooktop.

Use non-abrasive cleaner: Whether you have a flat cooktop or not, abrasive cleaners have the potential to scratch the finish on the cooktop. Instead of scrubbing away baked-on food with a harsh cleaner, use a product specially made for cooktops or a paste of baking soda and water.

Be careful with bakeware: Never put hot glass bakeware on your glass or ceramic cooktop to cool.
Self-clean sparingly: The self-cleaning cycle heats the oven to extreme temperatures, which some ovens are not really designed to withstand. Occasionally, this can cause damage to important components like fuses and control panels. The risk of damage is increased if you overuse the self-cleaning feature, so it is advised to do most of your cleaning by hand and only use the self-cleaning feature for heavy-duty messes.

Clean racks in the sink: If you leave your oven racks in the oven during the self-cleaning cycle they may warp. Racks can be cleaned in the sink with soap and water.

Don't peek: Opening the oven door to check on your food lets out heat, wasting energy and increasing cook times. Keep your glass clean so you can check food without opening the oven.
Most frequent questions and answers
Give us a call, or fill in the contact form with details of your problem, and we'll get back to you